"With Government placing increasing emphasis on Local Planning Authorities having to demonstrate and maintain a deliverable pipeline of new housing, the early identification of strategic land and its promotion through the local plan process will become more and more important."
Planning Process
Each Local Planning Authority (LPA) broadly follows the same cycle of assessment, consultation and implementation in accordance with National Planning Policy. Local Plans typically cover a 15-20 year period, with national policy requiring them to be updated every 5 years to demonstrate a continual and deliverable 5 year supply of new housing. Understanding where an LPA is in this process, how they are delivering against annual targets and how their planning policies are evolving in order to maintain future housing supply are important factors to consider during the promotion of any land. The Gleeson Team are experts in understanding all of these factors and use this knowledge to identify the optimum time in the process to submit a planning application. We believe that planning is a collaborative process and actively seek to engage and build relationships with LPAs, local communities and key stakeholders to ensure we put forward proposals that are considered and robust.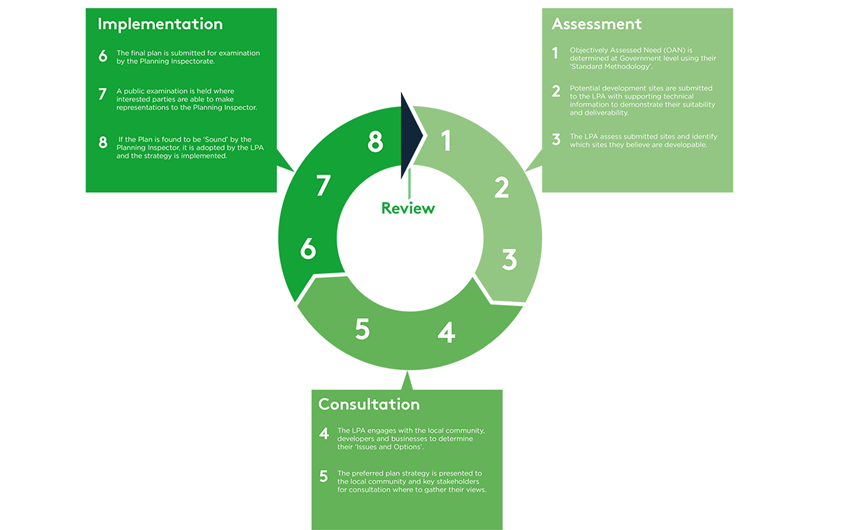 The NPPF (National Planning Policy Framework) places more emphasis on LPA's through the plan making process to provide and demonstrate delivery of a robust 5 year housing supply. Should LPAs either fall behind with adopting their Local Plan or are failing to deliver the number of houses required in their Local Plan, opportunities exist to short-cut this process. Our specialist expertise is in understanding these complexities, taking sites through this plan making process and identifying the ideal time to secure a planning consent that will achieve best value for our land owners.